We have all been there. We are not interested in doing something, yet our friend somehow convinces us to do it… Sometimes it works out, but also sometimes we end up looking like this…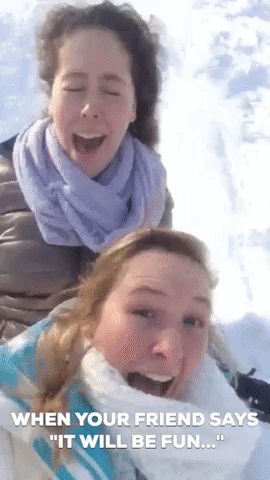 The clip I chose to use was one taken by my former roommate of us sledding together on one trash bag down the hill behind Brent House. As evidenced by my face, it was an intense ride down together, and my lovely roommate was able to capture it all on camera, including me somersaulting off the trash bag at the end. I was looking back through my videos to see which one might make a good reaction GIF, and I couldn't stop laughing when I saw my face in this one. It also reminded of all the times my friends have convinced me to do something, and halfway through, I have realized that it was a mistake to listen to them.
I chose the DS106 Reacts Assignment because I wanted to try out making GIFs, which is something I had never tried before. I love looking at GIFs online, so I was excited to give it a shot myself. I used the website, GIPHY to create this GIF. I started by cutting the original video down to a manageable size and then eventually down to less than two seconds. I uploaded the video to GIPHY and played around with the start and end time to get the best reaction on my face and also to make it seem almost like the GIF is continuously looping. I then added the text to the bottom to establish what the reaction was to. Then, I was able to save the GIF to my account. It was much easier than I thought it would be to create the GIF! I am excited for that unit!