At first, I was kind of nervous about this final project, but it ended up being really fun!! I decided that one of the best ways to depict Ella's story was to look at her friends and the people she surrounds herself with. I thought an all-inclusive video could be the big, cumulative piece. I then decided that I could make individual pieces as well for each of the nine chosen friends. I then wanted to look at Ella's future and use some different types of media to depict it. I went back to my trusty Pinterest to create two different boards to show what Ella's mind is focused on as she prepares for University. I then wrote a blog post that was a letter to Ella's future roommate because that is another piece of moving on that Ella is nervous and excited about. Clearly, the people she is surrounded by are important to Ella!
First, I created the Pinterest boards for both Ella's Witchcraft thoughts and interests, as well as her ideas for her dorm. I had fun looking for witch-y things on Pinterest. Then, for Ella's room, I decided that a bohemian theme would fit her free spirited, magical personality. Once again, I had a lot of fun picking out the decor. The letter to Ella's roommate was also interesting to write. It allowed me, as the author, to put myself into my characters shoes and think about what she wants in someone she will live with at her Witch University. It also helped me start thinking of ways to depict Ella's current friends.
To start depicting Ella's current friends, I decided to create a GIF for each one. I have a lot of videos of friends from abroad and NYC, so I decided to see which friends I had enough footage of to put into the video and created GIFs for each of them. I used GIPHY and had a lot of fun creating them!! I think GIFs are my favorite thing I have learned to create this semester. I loved depicting Ella's friends' personalities in these funny clips. After creating the nine clips, I decided to come up with a modern Irish name for each of my friends I was using to represent Ella's friends. I used the first initial of all of their names, and changed them to Irish names because Ella is Irish.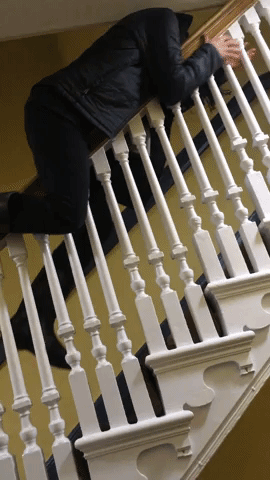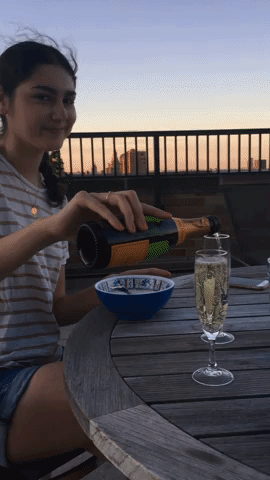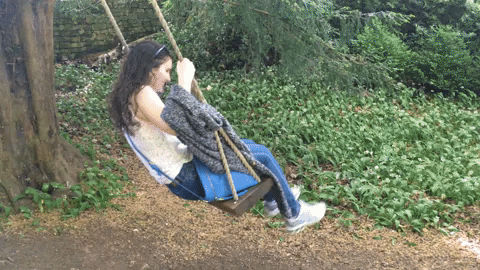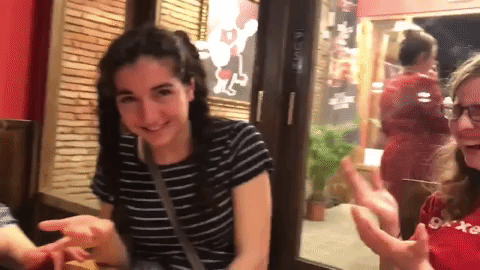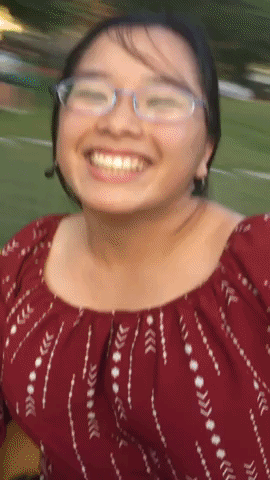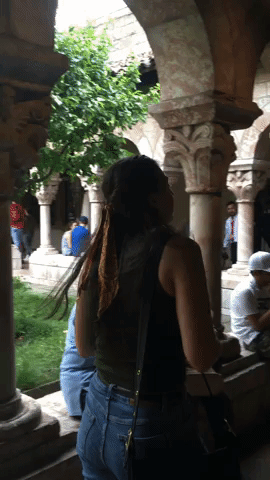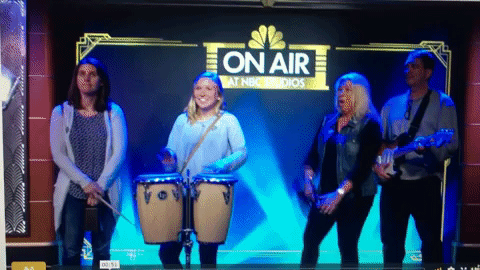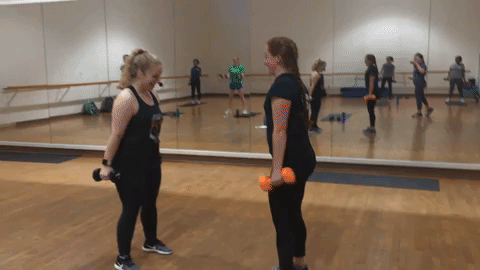 After coming up with the names, I created photo collages for each of the friends. I used Shutterfly to do so. Then, I took screenshots of the resulting collages. Once the individual pieces were done, I tackled the most complicated part–the video. I went through each of the nine friends and put all the clips I could find of them together, one followed after the other, in iMovie on my phone because I did not have the ability to send the videos straight to my computer. I then uploaded the iMovie video to YouTube. I then tried to use the 4K Video Downloader to download the video from YouTube, but it did not work, so I looked into another option. I found savefrom.net on a DS106 tutorial, and it worked.
Once I got the video with all of the clips downloaded, I pulled the video into iMovie and got to work. I muted the sound for all of the clips from the original video. I wanted to find a song for each person, so I found nine different songs that were free to use on YouTube's Audio Library. I slowly pulled them into iMovie, adjusting the size of them to line up to the section lengths for each person. I also overlapped them just slightly to alleviate any awkward pauses. I then had to write up what I was going to say for each person to thank them. I jotted down notes and then went through to record the different pieces. I recorded each person separately, and several people took several tries because it was hard to get the timing right to match the clip length to the thank you length. For a few of the friends, I had to use two different clips. I went through and listened to make sure it flowed well and to adjust the volumes of the different clips.
I then added titles for each of the friend's names on the first clip of each friend, and a final Thank You title at the end. I made small adjustments and then downloaded it as a file and uploaded it to YouTube. I decided to just do the voice over in my American voice, rather than an Irish accent, because Ella is practicing her American accent for University. I was pretty proud of this video, combining audio and video!
I really enjoyed getting to create Ella's story, and it was fun using so many different media forms! I loved getting to connect them together at the end to make a story. It has been fun getting to create the Legend of the Witch Ella Maguire this semester!
I have learned so much from this course, but it has also been fun! I have learned a lot of practical skills and insights from it!